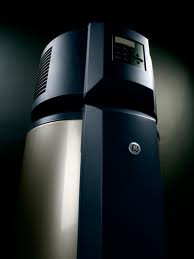 How does it work?
A compressor and evaporator are integrated into the electric water heater unit and the evaporator draws in ambient heat from surrounding air using two variable speed fans. Condenser coils wrap the tank all the way to the bottom to transfer this heat into the tank and heat the water.
This innovative process creates the same amount of hot water as a traditional electric water heater, but can reduce water heating expenses up to 62% to save $320* per year. And that could have a dramatic impact on monthly utility bills for years to come!
Pull savings out of thin air!
With advanced heat pump technology combined with traditional electric elements, this new GeoSpring hybrid electric heat pump water heater has been designed with maximum energy efficiency in mind. In fact, it's the most energy efficient 50-gallon electric water heater you can buy.
The tank portion of this ENERGY STAR® qualified electric water heater includes two electric heating elements, a pressure relief valve, an internal porcelain-lined tank and an anode rod. But what truly sets this product apart is just above the tank.