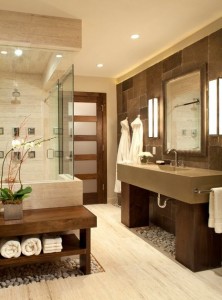 Plumbing.
It's been around since Roman times, but today's homes have a supply of both hot and cold water on demand, thanks to modern plumbing systems. The basic principles are simple — pressure and valves — but if they fail, the homeowner may be faced with a ugly mess. When this happens, act quickly to avoid major problems.
Smart homeowners in Roseville know how to spot and resolve small plumbing problems before they become major plumbing issues. Help your plumbing stay dry and happy with these basic tips:
Keep an eye open for trouble. When it comes to your plumbing, little leaks can lead to big problems. Be alert to signs of impending plumbing failures: Leaking taps, damp cabinets, rocking toilets or dripping ice makers  all signal problems that need immediate  attention.
Repair problems quickly. A leaking faucet can be more than just annoying; the moisture it releases puts wear on fixtures and may encourage the growth of mold and mildew. Stay on top of problems to keep your Roseville home both clean and dry.
You'll want to know where to go when trouble happens. If your plumbing should fail, will you know how to stop the flooding? Locate both the emergency stops for each fixture and the main shut-off valve for the main home water supply. If it's in a dark, hidden, or hard-to-reach place, gather any tools you'll need for a quick shut-off, and store them nearby.  You may just want to tie the right wrench to the valve. There's nothing like the frustration of a missing flashlight or a misplaced shut-off key when water's pouring down the stairs from a broken pipe.
Emergency water shut offs for sinks and appliances. Similarly, you should know how to shut off water to sinks, toilets, washing machines and water-using appliances like the refrigerator's icemaker. Should they start to leak or drip, knowing the location of the shut-off valve will save the day and a lot of wet clean-up.
Sewer clean-out or sewer relief valve. It's a real good idea to locate your home main sewer relief  valve or clean-out before you actually need it. It's there to provide access to your sewer so we can clear it if need be. If a clog occurs, the sewer relief valve with blow out in your yard, instead of having sewage in your home.
Cold snap: Keep plumbing safe in cold weather. Freezing pipes can create a sudden household emergency. Frozen water expands, cracking pipes; when the pipe finally thaws, the crack creates a geyser.
Prevent frozen pipes before they start. Best defense: insulation. Insulate exposed pipes in a crawl space or in the garage with easy-to-install foam pipe insulation. It's a peel-and-stick solution. Before winter comes, remove exterior hoses, and apply insulating caps to outdoor fixtures, as a frozen exterior hose bib can damage interior pipes
When cold weather strikes, go into action. If you're on a well install a small clip lite with an incandescent bulb in the well house to keep the temperature above freezing
If pipes do freeze, don't panic. First, shut off the water supply to the house, then open a faucet near the blocked area. Then wait for things to thaw. When the flow is restored, check the plumbing carefully for cracks or leaks.
Call ABT Plumbing, Electric, Heat & Air if your efforts are unsuccessful. 916-645-9120