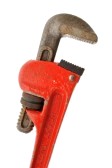 Super Bowl Sunday comes around just once a year and is undoubtedly one of the biggest Football Sundays all year long. Super Bowl is an American and especially a Grass valley tradition embraced by many; with many fans watching for the game as well as the great TV commercials! Super Bowl Sunday sparks many get to-gethers, and when one is entertaining it is a good idea to follow some these good ABT Plumbing tips to keep everything in working order.

Here are some plumbing tips to keep your Grass Valley homes plumbing flowing during this Super Bowl Sunday
Watch what goes down the drain! Large pieces of meat and bone can be quite a nuisance for a garbage disposal!
Never pour grease down the drain! It mucks up the blades and can cause clogs down the line!
Avoid putting fibrous things down the drain like potato skins, celery, and corn husks etc..
When using the garbage disposal be sure to run water for while after each use to be sure the garbage disposal clears.
Don't treat the garbage disposal like a trash can. Paper, plastic, and trash should never go done!
If you are having issues with your garbage disposal avoid using the dishwasher as it drains into the garbage disposal and can further complicate the issue.
Clean out the grid in showers of hair to prevent any clogs.
Check for leaks ie: toilet, faucet, shower
Educate your Grass Valley guests, a politely written note in the bathroom instructing them to not flush any trash down the toilet.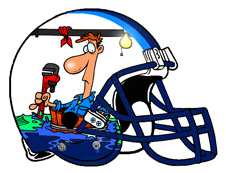 Now for some Super Bowl Sunday Fun Facts
Roman numerals are used in the Super Bowl because the football season falls in two calendar years.
There are 72 footballs used in each super bowl. The NFL purchases more than 700,000 footballs for each NFL season.
9 out of 10 viewers of the Super Bowl prefer to watch the game from the comfort of their own home; 17% watch from a friend for family members home; 3% venture to their favorite local haunt, and 15% will watch from their smartphone.
Super Bowl makes for the 2nd highest day of food consumption next to Thanksgiving with1.25 billion chicken wings being consumed and approximately 100 million pounds of guacamole will being eaten while folks are watching the game!
A 30 second Super Bowl commercial is going for 4 million dollars!!
Super Bowl views will consume an estimated 50 million cases of beer.
Tickets for the inaugural Super Bowl were sold for $6 but the price increases have outpaced inflation and the face value for tickets this year range between $500 and $2,600